Adopting A Child From China FAQs
Commonly Asked Questions About Chinese Adoption
Fill out a no obligation pre-application
THE CHINA PROGRAM IS ON HOLD
DUE TO THE PANDEMIC.
Why adopt from China?
China Adoption is one of the most stable and established international adoption programs available. China provides adoption services through the China Center for Children's Welfare and Adoption (CCCWA). At this time, adoptions from CCCWA are waiting children with special needs. If you not considering a waiting child or special needs child, consider adopting from Korea or Thailand. CCCWA gives children with special needs priority, so the process is expedited to ensure these children quickly find a loving family. Some of the major advantages of adopting from China are:
Medical histories provided and updates can be requested
Multiple ways to adopt from China
You control which child is to be matched
Short travel time, in most cases around 2 weeks
Affordable and predictable costs
How long does it take to adopt a child from China?
China Waiting Child Program: The process for a Waiting Child from China is currently taking 12-18 months from application to placement. The wait for a referral after the home study is completed is currently taking an average of 0-6 months.
China Non-Special Needs Program: Though New Beginnings continues to accept families into the regular China program (for healthy children), this process is taking six years or longer. We do not encourage application through the non-Special Needs China program for this reason.
Consider Waiting Children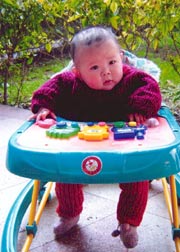 For many people, a waiting child adoption is a wonderful way to add a member to their family. A waiting child is a child who is legally free for adoption but does not yet have a permanency plan. To be open to a waiting child does not mean that you must be open to all conditions, only some conditions. For New Beginnings' waiting children program, we would only present the child's information with the condition or types of conditions the family has indicated they are open to. If the family intends on proceeding, New Beginnings would take the steps to secure the referral. If the match is declined, another will be made for consideration when available.
Because China is primarily special a needs program, the children referred qualify due to their age or their varying degrees of medical conditions. Due to the high cost of medical expenses and fear of discrimination, special needs children in China may be abandoned by their birth parents. The children available vary from around 9 months to 13 years old. Waiting children can have medical conditions ranging from minor to severe. Conditions include but are not limited to spina bifida, missing limbs, congenital heart defects, cleft lip and palate, hearing and vision issues, Down Syndrome, and developmental delays. Families should research each condition they are considering and discuss with their social worker the potential impact it could have on their family.
CCCWA will release waiting children's information to New Beginnings in two different ways. First, CCCWA provides New Beginnings with a designated list of children that are only assigned to New Beginnings families. We will work hard to locate adoptive families who are willing and ready to adopt these children through the Special Focus Adoption program. In all cases, families should get information such as pictures, background and history, developmental information, basic physical exam, and detailed information on the child's medical condition or special needs. If the information is not current, New Beginnings can request updated photos, videos, medical reports, and testing results. The second was CCCWA releases information is through a shared list. This list is open for all agencies to see. If a child matches a family's profile, the agency is able to lock the file for that family if the child is still available on the list. We monitor the shared list daily and have good success finding the right match.
Will I be required to travel to China?
Foreign travel is required. The trips are well organized and go smoothly. Since you are placed with the child very early in the trip, your primary focus needs to be on parenting the child, not the itinerary. Our representative in China will greet you at the airport and guide you through every step of the adoption process. If requested, we do schedule sightseeing and shopping for your pleasure and experience. Itineraries are very reliable, and glitches rarely happen. If one does, our staff will resolve it and have you back on the schedule. You will be in and out of China in two weeks.
Who is eligible to adopt from China?
ELIGIBILITY AND INFORMATION
CCCWA has varying requirements for married couples and single females. All applicants are required to be heterosexual, and single females are limited to only the Special Focus Adoption program. Single females can adopt one child at a time and must wait 1 year before starting a second adoption.
Married Couples*
Must be married for at least two years if neither applicant has been divorced (limit of two previous marriages). If previously married, the length of the current marriage has to be at least five years.
Applicants should be between 30 and 55 years old.
Applicants should have a High School or equivalent education level.
Combined income should total at least $10,000 for each family member, including the adopted child.
A net worth of at least $80,000.
No more than five children in the home under the age of 18 years old, the youngest being at least three years old.
Applicants should have no history of criminal activity or drug use.
Applicants should be physically and mentally healthy (no antidepressants for the past two years).
The couple should have good medical insurance that will cover the adopted child's medical needs.
Single Females (Special Focus Adoption Only)*
If in a stable relationship and living with a male partner, you must meet the requirements of a married couple.
Applicants should be between 30 and 50 years old. If over 50, the difference between the child and the adoptive parent cannot exceed 45 years.
If previously married, the applicant must provide a certificate of marital status (divorce decree).
Applicant must submit a letter explaining her decision to remain single and describe her attitude toward marriage. This must include her plan to involve men as role models for an adopted child.
Applicant's income should total at least $20,000 plus $10,000 for each family member, including the adopted child.
A net worth of at least $100,000.
Applicant should be physically and mentally healthy (no antidepressants for the past two years).
The applicant should have good medical insurance that will cover the adopted child's medical needs.
No more than two children in the home, the youngest must be at least six years.
How Much Does it Cost to Adopt from China?
For a breakdown of adoption expenses, view our China Adoption Expenses Disclosure.
The Adoption Tax Credit can significantly offset the costs and fees of an adoption process, but prospective adoptive parents need to ensure they understand the basics before determining how much it can help them. In this updated Guide to Understanding the Adoption Tax...