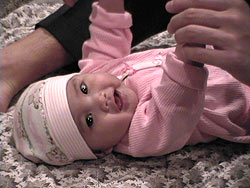 Thank you for your interest in the Korean adoption program. Korea has been processing adoption since the 1950's. Several hundred thousand children have been placed into American adoptive homes since that time.  NB has been successfully placing children from Korea since 1985. Many of the adoptees are adults with families of their own. The Korean program places health children or children with minor medical needs. Most children are around two years of age when placed. It is a predictable, well organized program perfect for families considering international adoption.
Over the last two years, the Korean program has been in need of families. We place children in all 50 states. New Beginnings will direct the home study for families in states we are licensed: New York, New Jersey, Pennsylvania and Florida. For families in other states, New Beginnings will guide you through the home study process.
Once the home study is completed, NB will prepare your documents for Korea and find the right match of a child. Updates and information is routine while the family waits for their first trip to Korea. A month to six weeks late, they travel again to bring the child home.
We understand that pursuing international adoption is a life changing decision for any family. New Beginnings promises you full transparency throughout the process. We believe that you will make the decision that is best for your family and we will never pressure you on your decision.
For families that fit within the requirements of the program, Korean adoption should be seriously considered.
MEETING WITH A KOREAN ADOPTION SPECIALIST
You are welcome to call us for the latest adoption information, for adoption application procedure, for a private information session with an adoption specialist and for other questions.
If you have any questions, you can send an e-mail to nb@new-beginnings.org, or you can call us at (516) 747-2204.