Why Should You Consider Korean Adoption?
The Korean Adoption Program is an excellent option for married couples wanting to adopt a healthy toddler. Adoptions from Korea have a well deserved reputation for excellence. New Beginnings places children with the cooperation of Eastern Social Welfare Society in Korea. We have successfully operated our Korean program since our founding in 1985. Children receive excellent medical care comparable to the United States, and their medical information is full and complete. The children are cared for in foster homes, not orphanages. Over the last few years, the number of available children from Korea has increased, so adoptive families are needed. If you would like to know more about the program, e-mail us or call us at 516-747-2204.
What Children Are Available?
The majority of children that are available are boys around the age of two at placement. Korea does not allow a gender preference. The information presented with the referral is detailed and complete with growth charts and developmental progress. Non-identifying background information on the birth parents is readily available and is included in the referral packet. The children are cared for in foster homes. In addition, ESWS provides day care to monitor the children and promote developmental milestones. Updates and monthly photos are provided, and we encourage sending letters and packages to the child during the process. We do see occasional referrals of children that have medical concerns and recommend families to be aware and open to a child with minor correctable needs on a case by case basis.
How Long Does It Take for Korean Adoption?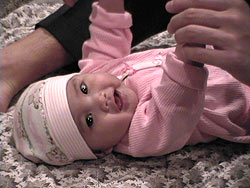 The length of time to complete a Korean adoption has improved considerably, and can now be done within 12 to 18 months. New Beginnings will routinely complete the home study and secure USCIS approval within four to six months. Once the home study is completed, we will send the report to Korea. A referral can be expected within two to six weeks after Korea receives the report. From there, it takes six to nine months before you are able to bring your child home. During this time, you will receive regular updates, photos, and progress reports every three months. For returning families and families that have previously adopted from Korea, we can often expedite the process. For the Steps in the Process, click here.
Is Travel Required To Adopt A Child From Korea?
Travel is required. Parents will take two trips, each lasting about 5 to 7 days. The first trip is to meet your child and appear before the Seoul Family Court for the adoption. The second trip takes place about four weeks later when you will bring your child home. The adoption is finalized in Korea and your child will become a US citizen when he arrives in the United States. Korea is a modern, industrial nation. Western and American restaurants and amenities are readily available. While there, we strongly encourage our families to experience the wonderful cuisine and culture of Korea.
What Are The Korean Eligibility Requirements?
Eligibility requirements are specific in Korea. Visit our Programs at a Glance page to quickly see all requirements and compare between programs.
Marital Status — Must be married a minimum of three years.  No more than one divorce per spouse.
Age — Both spouses must be under the age of 45 by the time their home study is completed.
Age Waiver — Special permission will be given up to age 49 at home study approval if one of the following conditions are met:

At least one parent is of Korean Heritage, or
One parent is a Korean adoptee, or
Parents already have adopted from Korea.

Weight — Both spouses must have a body mass index (BMI) under 30%.
Health — Both spouses must be in excellent health without any medical concerns. Please contact us or submit a Pre-Application if you have specific questions about this.
Family Composition — There can be no more than four children in the family prior to adopted child's arrival.
Gender Preference — There is no gender preference and more boys are placed each year than girls.
Services in all 50 States
We can provide adoption placement services in all states. New Beginnings will do the home study and adoption services for families that live in the states that we are licensed: New York, New Jersey, Pennsylvania and Florida. For families in other states, we will help you find a licensed home study agency in your state. If another ESWS agency is located in your state of residence, we would suggest you consider using them for the home study and placement services.
Is Korean Adoption Right For You?
If there is a preference to adopt a healthy toddler child, Korea is excellent. The children are in very good health. At referral, you will receive a thorough medical report on the child, as well as a social history on the birth parents. Photos and updates on your child come on a monthly basis thereafter. There are also progress reports every three months until arrival. There are many more boys placed than girls and gender preference is not permitted. The adoption process goes smoothly. Korean adoption costs are higher than average partially due to the two required trips. Regardless, Korea is an excellent program and should be seriously considered.